Itinerary/Tour Details
CHADAR TREK 2019
Chadar trek is one of the most thrilling yet a challenging one for the trekkers in Ladakh. The temperature during winter in Ladakh drops down to minus 5 to 40 degrees, yet the trekkers, the exceptional adamant one choose this trekking. This trekking is worth the challenge; it is like the path least travel and you will see the hidden or unreachable ranges of the uppermost section of the Himalayas. Since this trek demands ample of physical strength, one must be above 20 and should be physically fit. Within 5 days you will taste the chilly weather, but with the satisfaction of reaching the unseen villages and people by the rest of the world.Throughout this journey you will be accompanied by Guide, cook, helper, and porters.
| | | | |
| --- | --- | --- | --- |
| Day | Location/Route | Overnight | Guest House/Camping |
| 01 | Leh/Chilling/Tilat do/Shingra Yokma (Drive 5 Hrs)and (Trek 1 ½ Hrs) to Shingra Gongma | 01 Night Shingra Gongma | Tent |
| 02 | Shingra Gongma to Deep Yokma (Trek 4- 5 Hrs) | 01 Night Deep Yokma | Tent |
| 03 | Deep Yokma to Nyrakpullu (Trek 4-5 Hrs) | 01 Night Nyrakpullu | Tent |
| 04 | Nyrakpullu to Deep Yokma ( Trek 4-5 Hrs) | 01 Night Deep Yokma | Tent |
| 05 | Deep Yokma to Shingra Gongma (Trek 4-5 Hrs) | 01 Night Shingra Gongma | Tent |
| 06 | Shingra Gongma to Shingra Yokma (Trek 1 ½ Hrs )and Shingra Yokma to Leh (Drive 5 Hrs) | | |

Day 1: Leh – Chiling/Tilatdo to Shingra-Gongma (3200m) 5 hrs drive (Taxi/Bus):/1 ½ Hrs Trek
In the morning after breakfast drive towards Nimoo where the confluence of river Zanskar and Indus is located, from there take left and drive along the Zanskar River till you reach Sumdado. At Chiling after Lunch visit the White Copper artists famous for their handmade works. After lunch drive Shingra Yokma from where the Trek will start till you reach Shingra-gongma ( 1 ½ hrs). Today is the day you will actually start walking on the frozen river, you will pitch your camp at the bank of Zanskar River. As the dusk ascent the coldness will arise too, your sleeping bag and the warm water will keep you warm. Spend your night in the tent.
Day 2: Trek Shingra-gongma to Deep Yokma(3300m) 5 hrs.
In the moring after having your breakfast with a hot cup of tea to beat the freezing weather and energise you for yet another challenging 5 hours trek to Deep. Starting this trek to Deep where you'll see numbers of caves, and you will also see Tsomo Paldar, naturally flowing spring water. After a day long trek you will set your tent at Deep for your night stay.
Day 3: Deep to Nyrakpulu (3400m) 4-5 hrs.
Start the trek from Deep, after 4-5 hours of walk you will be reaching Nyarakpulu. After Lunch visit the Big water fall and beautiful village called Nyarak. Reaching this village you will get to know about Zanskar people and its way of life. From there Singee-La will be visible, which is a summer trek.Overnight Camp.
Day 4: Nyrakpulu to Deep Yokma (3300m)4- 5hrs.
On the way back you will take the same route back from Nyrakpulu to Deep Yokma. Spend the night in camp at the side of river bank.
Day 5: Deep Yokma to Shingra Gongma (3200m) 4-5 Hrs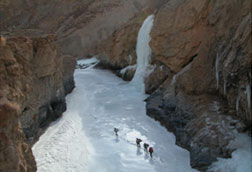 Trek back from Deep Yokma to Shingra Yokma.Overnight in Camp at the side of river bank.
Day 6: Shingra Gongma to Shingra Yokma to Leh (3200m) (1 ½ hrs trek & 5 hrs drive)
Trek back from Shingra gongma to Shingra Yokma and then drive back to Leh bidding farewell to the adventurous yet a challenging trekking
Tour Ends
---
---
Chadar trek, chadar trekking, frozen river trek, leh ladakh trek, trekking in ladakh, ladakh trekking, trekking in india, treks in india, trek, trekking, trekking in winter, winter trekking, winter treks in india, snow trek, zanskar trek, best trek, leh trekking, chadar trek difficulty, chadar trek 2018, chadar trek distance, chadar trek package, chadar trek fix depature, chadar trek cost, chadar trek package, trek to chadar frozen river lake
---
---
Includes
❖ All Transportation by Qualis/Scorpio & Tempo Traveller. ❖ Two /Four Men Tents, Kitchen and dining Tents with all Meals. ❖ Kitchen equipments. ❖ Mattresses, Sleeping Bag, Gum boots,Walking Sticks &Feather jacket ❖ Cook, helper, Guide & Potters ❖ Camping charges. ❖ LAHDC/Wildlife fees.
Excludes
❖ Trekking shoes and clothing. ❖ Accommodation in Leh ❖ Any Flight Ticket. ❖ Any Kind of Personal Expenses or Optional Tours / Extra Meals Ordered ❖ Anything not specifically mentioned under the head "Prices Included". ❖ Tips, Insurance, Laundry, Phone Calls. ❖ Any Kind of Drinks (Alcoholic, Mineral, Aerated) ❖ Cost incidental to any change in the itinerary/ stay on account of flight cancellation due to bad weather, ill health, roadblocks and/or any factors beyond control.
Accommodation
❖ 50% Advance to confirm the reservation. ❖ Balance amount to be deposited 15 Days before tour departure. ❖ 30% Cancellation before 15 Days of tour Departure, within amount will be charged. ❖ Full Confirmation of Hotels will be provided only on full payment. ❖ Vehicles provided as per tour plan (Point to Point Basis) ❖ Any services initialized are non refundable and any expenses due to change in the program due to health or road blockage will be charged extra. ❖ Prices valid from 15 January 2019 to 20 February 2019.